A wide range of outdoor architectures for installations, events and exhibitions.
TEMPO è un insieme di sistemi per il mondo dell'architettura temporanea e riconfigurabile, dell'allestimento e dell'esposizione. Un'idea nata dalla grande esperienza di Henoto SpA e dello Studio Monica Armani per sostenere, accompagnare e rendere riconoscibile un brand in modo tangibile nelle più svariate situazioni.
Con i sistemi TEMPO il cliente può usufruire di un servizio gestionale ed organizzativo a 360° ed avere un prezioso strumento di comunicazione e marketing che rafforzi la propria immagine in modo coordinato, omogeneo, unico e ben definito. Un progetto innovativo nell'architettura temporanea che unisce altissima funzionalità e tecnologia ad un raffinato design, per dar vita a dei luoghi che lasciano il segno.
Adatto a risolvere nel tempo le più diverse necessità del committente, il sistema è modulare, configurabile e facilmente riutilizzabile in un concetto sostenibile di uso misurato e controllato delle risorse e di attenzione all'ambiente.
A wide range of outdoor architectures for installations, events and exhibitions.
Thanks to modular structures and advanced technologies, Henoto offers multiple solutions for outdoor installations, from the small showcase to the large pavilion, guaranteeing maximum functionality without sacrificing design.
Innovative and essential design.
Tempo technology is a proprietary patent of Henoto.
Born from the union between Henoto's experience in the world of fittings and the stylistic research of Studio Monica Armani, Tempo combines maximum functionality and flexibility with a refined design conceived on the principles of reduction, essentiality and clarity. 
Modular and sustainable.
Suitable for solving the most diverse needs, the system is modular, configurable and easily reusable with functional and logical construction principles. The materials guarantee long-term use in a sustainable concept of measured and controlled use of resources and attention to the environment.
Versatile and customizable.
Tempo is ideal for any space requirement and the customization does not stop there. It is possible to choose the colors of the product components to create a unique and exclusive, highly customized solution, giving life to unprecedented expressive trends.
Uncompromising Style
Thanks to its modularity, Cube adapts perfectly to both small spaces and very large areas. 
The structure also has numerous customization possibilities. The range of accessories is wide: from the sliding sheet to the panel with graphics, from the side glazing to the graphic tower, up to the furnishing accessories that can be declined in multiple combinations and materials.
Nothing is left to chance.
Cube, as Tempo does, respects a circular economy philosophy: once disassembled, the structures are reusable, considerably reducing the production of new materials. Every Cube detail is specially designed to ensure the necessary strength, without neglecting the practicality and speed of assembly/disassembly.
Simple and elegant.
Cube includes versatility and simplicity of realization in an essential shape: an aesthetically light architecture that guarantees rapid installation, resistance and customization. It can be used as a simple structure and combined with other components.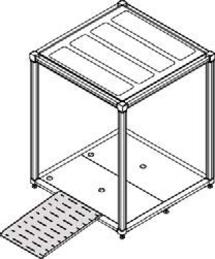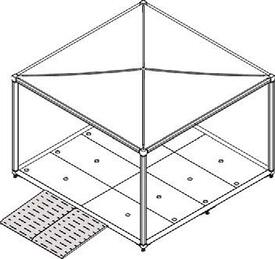 Pavimentazione
Possibilità di scelta di differenti
tonalità.
Grafica Parete
Possibilità di scelta
graficizzazione delle pareti
in tessuto dello stand.
Vetrofania
Possibilità di applicazione di
vetrofanie su parete vetrata
dello stand.
Storage
Possibilità di inserimento di
ripostiglio all'interno dello stand.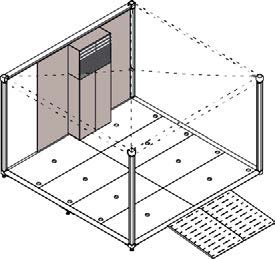 Gruppo di Climatizzazione
Possibilità di inserimento
di gruppo climatizzazione
all'interno dello stand.
Platform
Struttura base con pedana
esterna.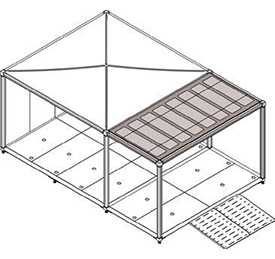 Platform Roof
Struttura base con pedana
e pensilina esterne.
Graphic Tower
Struttura base e pensilina con
torre graficizzata.